Uniform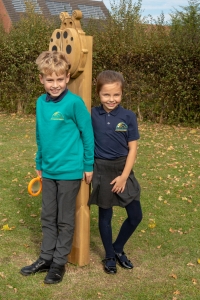 We want our children to have pride in our school and to know that they are a special part of the Upton Meadows community. We believe that wearing a school uniform:
Promotes a sense of pride in the school
Helps to create a sense of community and belonging towards the school
Identifies pupils with the school
Supports the school's commitment to inclusion
Prevents pupils from wearing 'fashion clothes' that could be distracting in class
Is practical, smart and designed with health and safety in mind
Is considered good value for money by most parents
Our children wear a jade green logo sweatshirt/cardigan, navy blue logo polo t-shirts, dark grey trousers/skirt/pinafore dress/shorts and black school shoes (no trainers or boots). Summer dresses may be worn when the weather is appropriate – blue or green only.
For PE children are expected to wear navy PE shorts and a green school logo PE t-shirt. Drawstring, logo PE bags are available to order. Plimsolls or trainers are required for outdoor PE.
Uniform is available to order from Tesco and Impact Trading using the following links.
Impact Trading
Click on customer login
Select Upton Meadows Primary School
Enter password UPT001
Select required uniform and sizes
Pay securely with Sagepay
You will receive a confirmation email when your order has been placed. Orders will be delivered to school on a two weekly basis and sent home with your child. For more information please contact Impact Trading on 01908 290482 Mon-Fri 9am-5pm.
PB Uniform
Select required uniform and sizes
Pay through their secure website facilities